Welcome to the School of Audiology and Speech Sciences at UBC where we educate the next generation of audiologists, speech-language pathologists, and clinician scientists, and we engage in research to create new knowledge and innovative treatment of human communication and its disorders.
The School has experienced tremendous growth in the last 5 years! We have welcomed several new faculty and staff as well as an enlarged SLP student body. These increases have brought energy, vision, and synergies to the School as a whole and led to many opportunities for advancing our research and educational programs. For example, the School's research expertise and reputation have been broadened in the areas of developmental speech and language, acquired language disorders, swallowing and its disorders, and hearing science. Our curriculum has also expanded in offering more interprofessional training opportunities and case-based learning modules, as well as support for an Aboriginal Community Learning Experience Coordinator who facilitates activities to nurture cultural sensitivity in clinical practice.
Like other departments on campus, the School has felt the acute and prolonged impact of the COVID-19 pandemic. Yet, the last two years have seen us generate creative solutions to sustain our clinical education and research programs in the face of public health restrictions. For instance, to meet students' clinical education needs, we developed and piloted several in-house clinical training programs, some of which benefited from interprofessional partnerships on campus. In addition, instructors and students found it necessary to pivot from in-person to virtual teaching/learning and research activities. Although these transitions have been disruptive, they have also opened up doors for discovering alternative methods to achieving our instructional and research goals.
I am grateful for and proud of the collective energy, resilience, and resourcefulness that our School members have sustained during these extraordinary times. I am also reminded that our accomplishments build on a rich heritage and reputation established by our emeriti and alumni. We invite you to browse through our website to learn more about our history, faculty, staff, academic programs, and our supportive clinical community.
In anticipation of turning the corner on this pandemic in 2022, we look forward to engaging the School community in a strategic planning process that will strengthen our collective resolve and capacity to "advance knowledge of human communication, its disorders and related areas in order to improve health and quality of life for all individuals within their communities."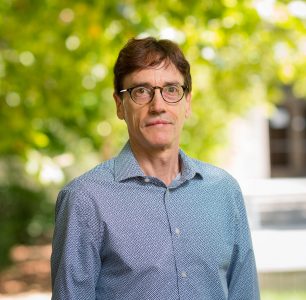 Jeff Small, Ph.D., Director